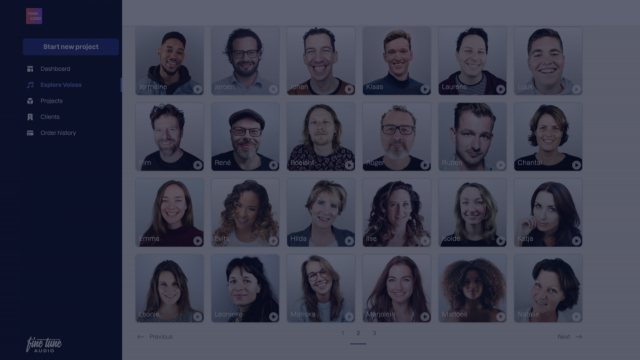 Provide voices in your branding
Our reseller platform lets you use your own branding when clients need a voice-over.
The Fine Tune Audio Platform
Welcome to our platform – your one-stop solution for redefining audio branding. Whether you stumbled upon us during your digital journey or heard about our services through our website, we are eager to illustrate how our platform empowers you to differentiate from your competition and enhance your professionalism.
With over a decade's experience in the audio branding industry, we've identified three significant challenges that have the potential to affect us, you, and perhaps even your clients:
The current practices of delivering voice-overs to clients often involve clunky and unprofessional methods, such as MP3 files or random website links.
There's a noticeable inconsistency in audio quality amongst various suppliers due to their diverse standards.
The frequent use of the same stock music and voices in multiple productions tends to disappoint, particularly when they are contrasted against the time, effort, and passion you invest into creating unique videos.
So, how do we address these concerns? The answer is simple.
We've pioneered a platform specifically designed for businesses that frequently deliver voice-overs to their clients. Forget about sending lengthy, impersonal links. Instead, you can provide a customized link or email that proudly showcases your logo and visual identity. This approach not only assures your client of your in-house capabilities but also delivers a visually pleasing and user-friendly experience for selecting voice-overs for their project.
At the heart of our platform is our commitment to uncompromising quality. We conduct exhaustive background checks on all our products and partners. This rigorous process ensures the maintenance of our high standards – standards that you've come to expect from a company deeply passionate about audio. Like you, we are dedicated to providing quality for our clients. Should any partner or product fall short of our expectations, we don't hesitate to take corrective action – either by delisting the partner or working collaboratively to elevate their standard.
Our unique selling proposition lies in our provision of unique voices. We meticulously scout and interview our voice artists to understand their individual uniqueness and how they can make each word resonate with the audience. By thoughtfully selecting a voice and often designing a custom sound experience around it, we ensure that your project stands out, delivering exactly what you envisage when partnering with us.
As we often say: while written words and visuals narrate the story, it's the audio that breathes life into it. That's why we created our platform and we can't wait for you to experience its benefits.
VISIT and sign up for The PLATFORM NOW
How can I add my own branding to the platform?
If you want to present voices in your own corporate identity to your customers, you must first upload your brand assets. You can then create a project and send a selection of voices in your own style.
If you log in to the platform, you can add your own branding and image or video by following these steps:
1. Find your company profile page
You can add your company data and brand assets to the icon of the person (top right of the dashboard).
Click on "Company profile" to get to the customization page.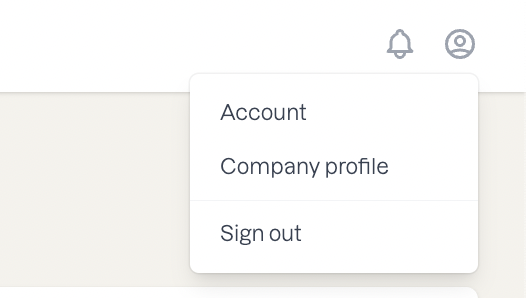 2. Adjust company appearance
You should now have arrived to a page looking like this. If not, check towards the top right that you are on "Company profile" and not "Account"
On the right side, you can create a custom message your clients will see when you send them a selection of voice-overs. Change all the colors to your brand colors, or to the colors of your liking.
Your company logo can be added so people see that as they receive the voice-over selection.
You can also add a video or image here for the background that your customer will see.
Click on "Save company appearance" and ensure that a green text bubble to the bottom right on your screen confirms that the assets have been updated. If everything is successful, your clients will see something like this: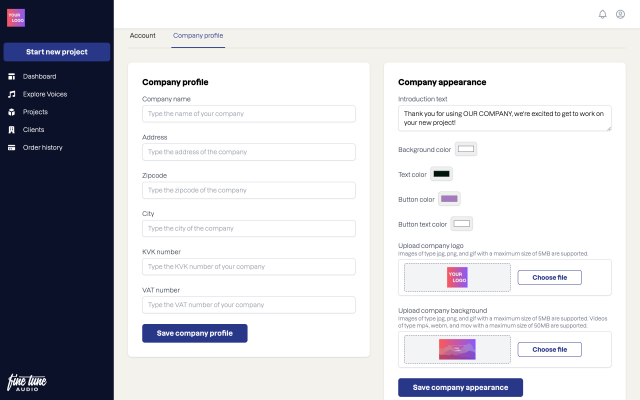 Some examples of how it could look for you: