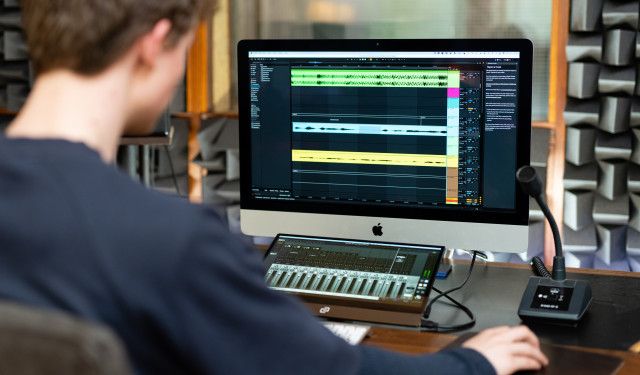 Apply now!
Composition, music production and sound design internship
Internship in composition, music production and sound design
We have an internship opening in September. This is a unique opportunity to get a look behind the scenes and work under supervision on the most exciting and diverse projects. You will have the space to develop yourself and build your own portfolio. The work will partly be done from our studio in Haren, on location and partly from home.
As a full-service audio post-production company we produce music, sound design and voice-overs for partners in advertising, film and media. During your work you will be involved in writing music for film, producing tracks and developing sound logos. In addition, as a recording and mixing engineer, you will participate in studio recordings of instrumentalists and voice-overs, and we will show you how post processing works and how to mix the recorded audio.
The best internship I could wish for
Who are we looking for?
You are a third- or fourth-year MBO or HBO music student
You are creative, driven and have a pro-active attitude
You can work independently and you have perseverance
You have demonstrable knowledge of music production and sound design and you are eager to learn more about it
You have (basic) knowledge of music theory
You can work with analog or digital synthesizers (e.g. Serum, Massive, FM8)
You can work with one or more DAWs (e.g. Cubase, Ableton, Logic or ProTools)
You can make recordings and/or have experience with editing audio
You have released music or have a portfolio you can showcase
Do you meet the above points and are you enthusiastic? Then get in touch with us!