Thanks for dropping by!
Welcome to Fine Tune Audio. We just wanted to show you and tell a little about ourselves:
At Fine Tune Audio we have a passion for audio production and sonic branding. And as fellow creators you probably understand how important a distinct and unique audible identity can be. Whether that's through music, voice or sound effects.
As we like to say: words and visuals tell the story, audio brings it to life. It brings emotions and depth through music and voices. To help tell your story we've do three things: We have developed a large database of unique, high-quality voice artists available to you; we produce on-demand sound logos; and we craft custom produced music and sound design for any company, brand or project.
We would love to share it all with you and elevate your next projects even further!
Take a listen at some of the samples we've prepared below, enjoy it and reach out to us if you'd like to sit down and discuss this further over a cup of coffee in the near future.
Get in touch now!
Listen to our work
Sound Logos
Listen to a selection of our sound logos. Sound logos are small pieces of audio that audibly represent your brand, just as a visual logo represents a brand visually. Using one of these will make your brand stand out; increasing distinctiveness and memorability.
Voice Overs
Our voices are in productions for Young Capital, Ajax, Uber Eats and many other companies. We deliver solid studio quality recordings with professional guidance. It is also possible to be present at recordings or dial in digitally to ensure that the message is conveyed correctly.
We have developed a platform for creative agencies that allows you to send a selection of our voices to your client in your own branding. Using this guarantees consistent quality, it saves money in the long-run and reduces steps you must take to get a voice-over.
Read more here
Music
We also write and produce a lot of music. We produce music for companies, events and even ghost productions for artists. Whether it's for a commercial, a song to represent your brand or event, or even a score to accompany a film or game, we pride ourselves on the top-notch quality we are able to deliver.
White Label Preview - The voice-over platform
If you are wondering how your voice over selection will look to your customers, we have made a preview. Using the white label concept your customers will always see your logo on our platform, check it out!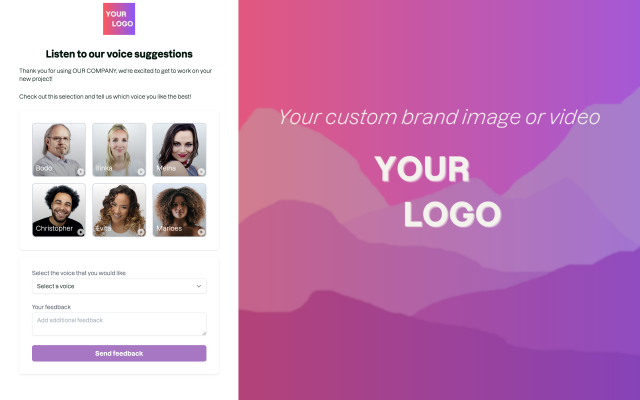 contact info
David Marcel de Jong
Fine Tune Audio
Kerklaan 30-A, 9751 NN Haren
Studio phone: 050 211 3680
Mobile phone: 06 336 66 809
Mail: david@finetune.audio
Some companies we're proud to have worked with