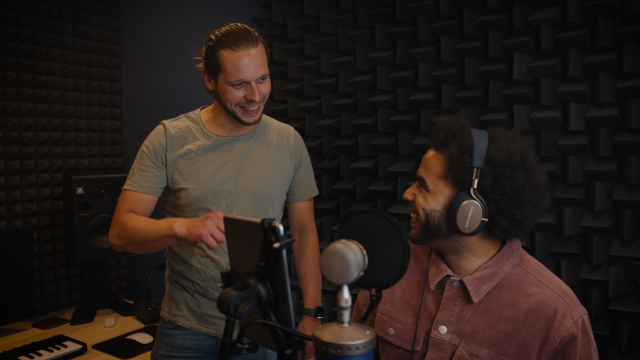 Voices
Fine Tune Audio's voice-over course: Parlando
Your opportunity to start doing voice-overs on a professional level.
Parlando - The path to professional voice-overs
Are you ready to let your voice be heard? Here at Fine Tune Audio, we're more than just an audio production studio. We're a vibrant community; a family of creatives and dreamers, and we're thrilled to invite you to be part of it!
Creating a voice-over isn't just about speaking into a microphone, it's about telling a story, captivating an audience, and bringing scripts to life. With this in mind, we've crafted a unique voice-over course that goes beyond techniques and technology. This course is all about helping you discover and refine your unique voice.
During this course we will help you with:
Finding Your Voice: Discover your unique voice-over style and tone. We give you the opportunity to learn how to use your voice as an instrument to convey emotions, connect with listeners and bring a story to life.
Crafting Stories: Words matter, but the way you tell them matters even more. We'll show you how to transform simple scripts into compelling narratives to bring the audience along for a story exactly the way you envision.
Mastering the Tech: Don't worry if you're not tech-savvy. We'll guide you step-by-step through the process of recording and production, demystifying all the terms and tech you may encounter as a voice-over. We will guide each individual to set up the ideal studio according to their situation.
You're likely curious about the specifics of what you'll receive during this course, so lets break it down:
Instructional Book: You'll receive a comprehensive instructional book that dives deep into the fundamentals and intricacies of voice-over work. It's your personal voice-over bible, designed to guide you at every step of your journey.
Live Classes: Enjoy six interactive live classes where you can engage directly with your teacher, ask questions, and get real-time feedback. It's a dynamic, immersive learning experience like no other.
Professional Teacher: Our course is led by seasoned voice-over professionals who have mastered the craft and are passionate about sharing their expertise with you. They are also trained pedagogically to ensure you learn in a way that suits you the best.
Masterclass with a professional: Learning from the best is a big step for people to improve. So we have one of our professional voice-overs come in to the studio during one of our sessions to guide, teach and inspire you all.
A Demo Recording: Get hands-on experience with a professional demo recording session. It's the perfect chance to apply what you've learned and get a feel for the real world of voice-over.
Free Feedback: We believe in lifelong learning, and we're committed to your growth even after the course ends. For the first five years, we offer free feedback on your voice-over work to help you continue to refine and improve. And as a special thank you, if you sign up to our first course, the students will receive lifetime support and feedback from us – we're with you every step of the way.
Certificate of Completion: Once you've successfully completed the course, you'll receive a certificate to mark your achievement. It's not just a piece of paper – it's proof of your dedication and a testament to your new skills.
Every resource, every class, every piece of feedback – it's all tailored to help you turn your voice-over dreams into a reality. We're passionate about nurturing talent and fostering a supportive, fun learning environment. We believe that every voice-over artist has a unique flair, and we're excited to help you uncover yours.
And here's the really exciting part: Once you've completed the course, some of you get the opportunity to join our exclusive voice-over artist database if you show passion and potential. It's not just a course completion perk - it's your opportunity to enter the big leagues! We work with a wide array of Dutch companies seeking top-notch voice-over services, so there'll be plenty of opportunities for you to shine.
Let's start this journey together. Reach out to us today to learn more about the course and how you can kick-start your voice-over career. At Fine Tune Audio, we're not just offering a course, we're offering an exciting journey, a family, and a future.
Looking forward to hearing your voice soon!
Sign up to the course
The course will cost €995 (incl. VAT) for everything included, but for the first round of participants we have decided to give 50% off the price!
Fill out the details below and write in the message that you'd like to be informed on when the course starts. As soon as 10 people have signed up we will inform you about the dates and other details you would need to know. If you have any other questions, don't hesitate to reach out!